About BridgeAus Migration Consultancy
Mission:  Help our clients reach their dream of living in Australia.
Vision: To be our clients' family away from home.
Values we stand for:
We believe that family comes first.  In a family, there is love, care, and trust for each other.  This is how we treat our clients.  We embrace them as part of our family. We keep in touch and we genuinely care for our clients' welfare. Getting a visa approval is just the first step of our long and meaningful relationship with our clients.
Trust is earned through consistently giving out successful results, being competent, and maintaining expertise.  We have a good track record of keeping our promises, ensuring compliance, and consistently educating ourselves with the ever changing migration regulations.
Our advice is straight forward and will always be based on the correct and up to date migration legislation.
We enjoy being there in our clients journey to Australia, whether to visit, study, work or to live and settle here permanently.  We look forward in celebrating every step of our clients' new beginnings in Australia.  Whether you get your visa approved, get a job offer, bought a car or found a new place to stay, these kind of news will always make our hearts smile.
About Our Team
Johanna Bertumen Nonato, CEO/Registered Migration Agent
Johanna was born in the Philippines, lived, worked, and studied in New Zealand, and then moved to Australia. While in between jobs, Johanna had a chance to work as a volunteer English teacher for migrants in New Zealand.  This experience gave her so much satisfaction and sparked her interest in helping migrants.
As a migrant herself, Johanna understands the importance of getting the correct advice that will give you the best chance of getting your visa approved. It is also important to talk to someone who can effectively communicate with you because migration is a very personal and emotional process.
Johanna has over 15 years of work experience in Marketing and Communications in various industries including IT, Telecommunications, Finance, and Surveillance. With a Bachelor's in Computer Engineering from the Polytechnic University of the Philippines, a Masters in International Business from Auckland University and a qualification in Australian Immigration Law and Practice from Victoria University, Johanna's industry and academic knowledge are put in practice as she deals with client's individual circumstances.
Johanna is passionate in helping migrants and firmly believes that getting your visa approved is just the start a long-term and meaningful relationship.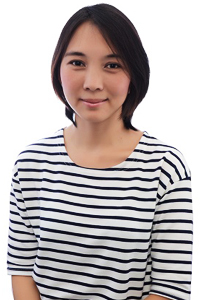 Mary Grace Dela Paz, Marketing Manager
Mary Grace has a wealth of knowledge in Business and Marketing Management. Mary Grace looks after the operations and marketing side of our Philippine branch office.  Aside from her roles as a supermum to her children, Mary Grace enjoys collecting designer diaries/planners.